---
---
EASY PEASY SLIMLINE CARD AND ENVELOPE

Slimline cards are really popular this season, so Carole has designed a quick and easy card and envelope that can be adapted to any occasion.
Here are the Photos & Instructions Have Fun!

---

CARING HEARTS CARD DRIVE IS BACK FOR 2021
Many card makers in our Crop A While community have been asking if we are going to participate again this year and the answer is a resounding YES!!
For those who are new to this project, the Caring Hearts Card Drive was started in the US by Vera Ling in 2009. The goal was to send out holiday cards to the elderly who live in nursing homes to let them know that they still matter and are not forgotten. Over the years the initiative spread across the world and the Crop A While community took up the torch here in Ottawa in 2017 - creating and distributing hundreds of card each year. The initiative was going strong until COVID-19 halted everything in 2020.
While we had to take a break in 2020, a team of Ottawa volunteers has confirmed with nursing homes in our area that they would very much like to receive holiday wishes for their residents in 2021. This past year has been difficult and lonely for many and the bright holiday wishes bring smiles to all. Initial numbers indicate that we need approximately 3,000 English cards and 500 French cards.
Here are the details ...
Please make the cards for Christmas or Holiday Wishes. Anyone can send a card, your children, church group, scout troops, etc.

Please stick to just cards - standard size A2 or 4-1/4" x 5-1/2" - as this will help us in sorting and packing more efficiently.

All cards need to have a message inside (it can be stamped or hand written).

Please sign your name (first name only is fine) and where you are from (inside the card).

Please include an envelope for each card - but do not put the card inside the envelope.

For safety, please do not use any pins on your cards.
Drop off your completed cards - whether you've made one or lots, they are all appreciated - to Crop A While, 2297 St. Joseph Blvd, Ottawa (Orleans) by Sunday, November 28. The cards will be sorted and packed for distribution. A team of volunteers will be delivering the cards during the week of December 7. There are many nursing homes in the area so if you have a couple of hours to spare during that week and are willing to do some delivery, please let Carole know by email at carole@cropawhile.ca.
Happy card making!!
The Caring Hearts Ottawa Card Drive Team

---
CLASSES ARE BACK AT CROP A WHILE
Crop A While's team of instructors is ready to do in-person classes again. We have rescheduled classes that were postponed at the beginning of the pandemic and are adding new classes each week. Croppers at Work Tuesday and Thursday groups have also resumed getting together. See
CLASSES
section for details. Register online or by calling 613-424-6831. Here's what's coming up this week (to October 18):
COFFEE TIME WISHES
- October 13 - New date and times
Alcohol Ink Colouring with Shelley Lanthier
Afternoon: 3:00 to 5:00 pm
Evening: 6:00 to 8:00 pm
Cost: $30
NORTHERN LIGHTS
- October 14-15-16
Technique/Card Class with Carole Fulton
Oct 14 Evening: 6:00 to 8:00 pm
Oct 15 Afternoon: 1:00 to 3:00 pm
Oct 16 Weekend: 1:30 to 3:30 pm
Cost $20
DANCIN' GNOME & SHOPPER
- October 16
Card class with Carole Fulton
Weekend: 10:00 to noon
Cost $25
CHILDREN'S HALLOWEEN BANNER
- October 17
class with Nicole Primeau-Gagnon
For kids 6 to 12 years old
Sunday: 1:00 to 3:00 pm
Cost: $15
See you soon ...
---
September 11-12, 2021 - 8 years and counting ...
8th Anniversary Open House
Saturday, September 11 - 10:00 am to 5:00 pm
Sunday, September 12 - noon to 4:00 pm
Join the celebration! We have two fun days planned just for you!
Demos and make-&-takes will be set up so that social distancing can be maintained.

Draws every hour

- that's a total of 11 draws! (you must be present to win)


Ongoing make-&-take with Nicole throughout both days - 'Envelope Love' card(designed by Dress My Craft)


Saturday - Product/Technique Demonstrations

Saturday - 11:00 to 11:45 am - Flaky Sparkle

Finnabair background technique with Tom



Saturday - 12:00 to 1:00 pm - Waxy Insect Fun

Embellishment make-&-take with molds and Finnabair waxes (Tom)



Saturday - 1:30 pm - Flower Shaping tips with Trina

Flower Tag make-&-take with Elizabeth Craft dies (Trina)



Saturday - 3:00 pm - Die Cut Washi Embellishments

Embellishment make-&-take with Pinkfresh Washi Tape and dies (Carole)



Sunday - Product/Technique Demonstrations

Sunday - 1:00 pm - Hot Foil demonstration with Tom

Foil Tag make-&-take (Tom)



Sunday - 2:30 pm - 'Transfer Me Sheet' Demonstration

Dress My Craft Transfer Sheet technique with Carole
An Anniversary Celebration definitely needs a sale!!!
From Saturday, September 11 to Sunday, September 19, save
at least 20% off
lowest price tag on all products in the store and online (except die cutting machines). For online savings, use coupon code 8ANNIV.
Join us for the Open House events (no registration needed) and shop for great savings.
See you soon!
---
July 25, 2021 - MERRY CHRISTMAS in JULY
New Christmas lines have started to arrive and it's time for Crop A While's annual sale
The sale begins at noon Sunday, July 25 and continues until 4 pm Sunday, August 1.
Save 15% off storewide: paper, stamps, dies, stencils, inks, paints, tools and much more (except die cutting machines, gift cards and classes)



Free Make-n-Take in-store / Free card kit with online orders



Shopping at Crop A While's Online Store? Use discount code CJ2021 to get your savings.
See you soon
---
July 17, 2021 - Today, Tim Holtz and Ranger launched PRIZE RIBBON - the newest 2021 Distress color.
As Tim says on his blog "Say hello to Prize Ribbon, an award winning blue, celebrating the summertime nostalgia of the county fair. Available in 8 different distress products: Ink Pad, Ink Re-inker, Oxide Pad, Oxide Re-inker, Embossing Glaze, Spray Stain, Oxide spray, and Paint."
Check out Tim's blog for a video and more details on Prize Ribbon launch. Crop A While had these products on pre-order and they should be arriving on Crop A While shelves shortly. Reserve your favorite products by emailing orders@cropawhile.ca
See you soon!
---
June 27, 2021 -
HELLO THERE
Sunday morning relaxation time (aka crafting time)

It's a crafty morning in the Crop A While classroom. I am getting caught up with the make and takes and projects from more than 25 recent trade show demonstrations, classes and make and takes.


Here is a simple, elegant card just to say hello. Echo Park Paper provided samples of the beautiful Flora no.4 papers and sticker sheet, as well as and make-and-take instructions for this project.


And as we all know, there are always leftovers LOL So I designed a coordinating one-page layout using the leftover paper and stickers.



Thanks to #echoparkpaper and the #celebrationofcraft virtual trade show for a very enjoyable crafty morning.


More samples to follow - Carole
---
June 20, 2021 - Happy Father's Day

Time to celebrate all the 'father figures' in our lives.
Check out our Online Store's Holidays theme for great products to create special father-themed cards.
June 8, 2021 - COVID-19 UPDATE
Ontario will enter Step 1 of its COVID-19 re-opening plan on Friday, June 11, 2021. At that time, Crop A While will be allowed to open for in-person shopping at 15% capacity. This means we will be allowed to have two customers shopping in the store at a time. If we are already at capacity when you arrive, please wait in your car until it is your turn to come inside.

Crop A While's Online Store will remain open 24/7. Telephone orders and curbside pick-up will be available during our regular business hours. We will be open Tuesday through Saturday from 10 am to 5 pm and Sunday from noon to 4 pm. Crop A While is closed on Monday.


We are looking forward to seeing you in person soon.

---
May 26, 2021 - New from Heather Telford



While Heather can't yet teach in-person at Crop A While, you can still enjoy her courses.

🎨
Heather's latest class, 'FLORAL FAVES', is an online class for stampers and card-makers. You will use floral stamps and watercolour techniques. Every project is taught through video along with downloadable instructions, photos, tips and complete supply lists. Crop A While has ordered several products for this class and they are on their way to the store.
For more info check out Heather's Facebook page at https://fb.watch/5FdddxiO4l/ or register for the class at https://coursecraft.net/c/floralfaves
Thanks #heathertelford for keeping us inspired to stay creative.

May 16, 2021
NEW ARRIVALS
Many orders have arrived and Crop A While has lots of new products on hand. We have expanded our selection of Canadian Vicki Boutin's fabulous Color Study collection. Check out the New Arrivals in the
Online Store
to see the new papers, stickers, pads, stencils, washi and more.
Thanks for some amazing designs
#vickiboutin
---
May 1, 2021 is National Scrapbooking Day and Crop A While is celebrating until Mother's Day

Crop A While's biggest sale of the year

Save 20% off storewide: paper, stamps, dies, stencils, inks, paints, tools and much more (except gift cards).

Shop at our Online Store and use discount code NSD2021

Shop by telephone - 613-424-6831




Shop by email - orders@cropawhile.ca
Points will not be earned during the sale however points can be redeemed when placing orders by telephone.


---
April 7, 2021 - COVID-19 Update

In accordance with Ontario-wide restrictions announced today, Crop A While will be closed to in-store shopping and activities as of midnight tonight.
Crop A While's Online store will remain open 24/7 and telephone orders can be placed during our regular business hours. Curbside pickup will be available to local customers and shipping will be available to other Canadian customers. Business hours will remain 10 am to 5 pm Tuesday through Saturday and noon to 4 pm on Sunday.
Please Take Care - Stay Safe
---
April 1, 2021 - Crop A While adapts to Ontario Grey lockdown restrictions
Ontario has been put into Grey zone restrictions as of this weekend. To conform to the new restrictions, help keep everyone safe and facilitate social distancing, Crop A While has set the following limits on people inside the store at a time:
Thanks for your cooperation as we do our part to keep customers and staff safe.
Carole & Tom
---
March 30, 2021 - Easter Wishes from Crop a While


---
March 17, 2021 - Irish wishes for you on St. Patrick's Day
---
March 10, 2021 - New Crop A While Facebook page

C
rop A While's original Facebook page 'CropAWhilescrapbooking' has been locked up in a Facebook loop. You can see it but nothing new can be posted. When we log in we get a site issues message and are told to try again in a few minutes. Weeks later and it is still locked.
So we have started a new page -
cropawhileottawa
- please share the new page info with your crafty friends so our followers can find us again.
Thanks
---
February 27, 2021 - Slimline Cards Sizes

As more and more Slimline stamps, dies and stencils arrive at Crop A While, card makers are asking us what the dimensions are. Here are the basic sizes (Thanks to #JenniferMaguire):

SLIMLINE CARD SIZES:
You really can do anything you want! But here are some popular sizes:

Traditional Slimline –

3 5/8″ x

8 5/8″ – To make,

cut to 8 5/8″ x 7 1/4″… score at 3 5/8″

Popular Slimline – 3 1/2″ x 8 1/2″ – To make, cut to 8 1/2″ x 7″… score at 3 1/2″

Big Slimline – 4″ x 9″ – To make, cut to 8″ x 9″… score at 4″

Mini Slimline – 3 1/2″ x 6″ – To make cut to 7″ x 6″… score at 3 1/2″

SLIMLINE ENVELOPES:
Big Slimline Envelopes (size 10 – letter size) – 4 1/8″ x 9 1/2″

Traditional & Popular Slimline Envelopes (size 9) – 3 7/8″ x 8 7/8″

Mini Slimline Envelopes – 3 5/8″ x 6 1/2″

Hope this helps you create your own Slimline cards.
---
February 24, 2021 - Crop A While will be on CTV
Crop A While has been invited to do a 1 minute live interview on CTV's 'Curbside Pickup' new segment. It will air at either 5:45 or 6:20 Thursday, Feb 25, 2021. Time to be confirmed.
Hope you have a chance to watch.

---
February 19, 2021 - In-person shopping now open

It was great to have people back in the store and the Oasis cropping studio yesterday. We look forward to serving more of you in the coming days.

Stay safe - see you soon
---
February 16, 2021 - COVID-19 Update
In-person shopping returning to Crop A While
Crop A While will reopen for in-store shopping as of 10:00 am Thursday, February 18, 2021. The Online Store and Curbside pickup will continue to be available.

In accordance with City of Ottawa By-laws, masks and social distancing will be mandatory in the store area and the Oasis cropping studio. A maximum of 5
shoppers will be allowed in the store area at a time. As well, a maximum of 6 croppers will be allowed in the

Oasis at a time.
A cropper will be permitted in the retail area only when there are less than 5 shoppers.
In compliance with Ottawa Public Health, Crop A While requires retail customers to self-screen before entering the store. Please follow these guidelines: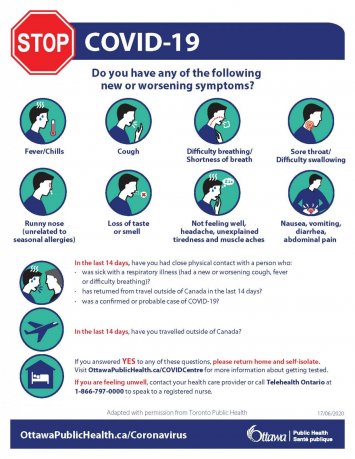 New Expanded Hours:
Crop A While will also be expanding its opening hours beginning on Thursday, February 18th:
Tuesday through Saturday - 10:00 am to 5:00 pm
Sunday - noon to 4:00 pm

We are very much looking forward to serving you in-person once again.
See you soon.
---
January 11, 2021 - OMG What a Day

😍😍😍


We spent Day 1 of our trade show week with AlteNew, Spellbinders and Waffle Flower. Lots of new stamps, dies, stencils and more. Our heads are bursting with all the amazing ideas they shared - colouring with stencils, elegant new slimline designs, layering ...
We will finish our make and takes and have access to event resources tomorrow ... Stay tuned
---
January 11 to 15, 2021 - Trade Show Season Begins

January is usually when the craft industry gets together for the huge Creativation trade show. Hundreds of craft manufacturers/distributors and thousands of store buyers gather (last time 2019 in Phoenix) to explore new products for the coming months. It was a fun and exciting time as we were able to learn about new products and network with suppliers and other store owners. We always came back with lots of goodies and ideas to share.

The COVID pandemic has made it impossible to hold an in-person trade show. But, as the saying goes, "the show must go on". Our distributors and suppliers have joined together to host smaller virtual trade shows. Tom and Carole will be participating in the first ones from Monday, January 11th through to Friday, January 15th. Since most of the classes and products demonstrations will be live, we will only be doing curbside pickup on Tuesday (Jan 12) when we have no live sessions.

Our kits for the events have been arriving since before Christmas and we can hardly wait to share the products and projects with you. Stay tuned to our Facebook page and our Blog for updates.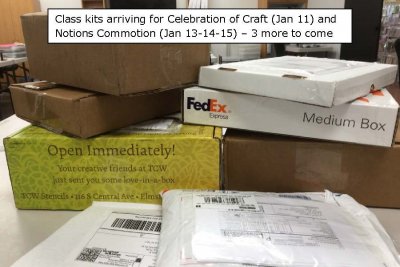 ---
JANUARY 1, 2021 - Happy New Year

As we say goodbye to 2020, we want to thank all our clients, suppliers, friends and family who have supported and encouraged us during COVID-19 restrictions.
We very much appreciated your business and look forward to continuing to serve you in 2021.

Warmest wishes for a safe and happy 2021
Carole & Tom