June 20, 2021 - Happy Father's Day

Time to celebrate all the 'father figures' in our lives.
Check out our Online Store's Holidays theme for great products to create special father-themed cards.
June 8, 2021 - COVID-19 UPDATE
Ontario will enter Step 1 of its COVID-19 re-opening plan on Friday, June 11, 2021. At that time, Crop A While will be allowed to open for in-person shopping at 15% capacity. This means we will be allowed to have two customers shopping in the store at a time. If we are already at capacity when you arrive, please wait in your car until it is your turn to come inside.

Crop A While's Online Store will remain open 24/7. Telephone orders and curbside pick-up will be available during our regular business hours. We will be open Tuesday through Saturday from 10 am to 5 pm and Sunday from noon to 4 pm. Crop A While is closed on Monday.


We are looking forward to seeing you in person soon.

---
May 26, 2021 - New from Heather Telford



While Heather can't yet teach in-person at Crop A While, you can still enjoy her courses.

🎨
Heather's latest class, 'FLORAL FAVES', is an online class for stampers and card-makers. You will use floral stamps and watercolour techniques. Every project is taught through video along with downloadable instructions, photos, tips and complete supply lists. Crop A While has ordered several products for this class and they are on their way to the store.
For more info check out Heather's Facebook page at https://fb.watch/5FdddxiO4l/ or register for the class at https://coursecraft.net/c/floralfaves
Thanks #heathertelford for keeping us inspired to stay creative.

May 16, 2021
NEW ARRIVALS
Many orders have arrived and Crop A While has lots of new products on hand. We have expanded our selection of Canadian Vicki Boutin's fabulous Color Study collection. Check out the New Arrivals in the
Online Store
to see the new papers, stickers, pads, stencils, washi and more.
Thanks for some amazing designs
#vickiboutin
---
May 1, 2021 is National Scrapbooking Day and Crop A While is celebrating until Mother's Day

Crop A While's biggest sale of the year

Save 20% off storewide: paper, stamps, dies, stencils, inks, paints, tools and much more (except gift cards).

Shop at our Online Store and use discount code NSD2021

Shop by telephone - 613-424-6831




Shop by email - orders@cropawhile.ca
Points will not be earned during the sale however points can be redeemed when placing orders by telephone.


---
April 7, 2021 - COVID-19 Update

In accordance with Ontario-wide restrictions announced today, Crop A While will be closed to in-store shopping and activities as of midnight tonight.
Crop A While's Online store will remain open 24/7 and telephone orders can be placed during our regular business hours. Curbside pickup will be available to local customers and shipping will be available to other Canadian customers. Business hours will remain 10 am to 5 pm Tuesday through Saturday and noon to 4 pm on Sunday.
Please Take Care - Stay Safe
---
April 1, 2021 - Crop A While adapts to Ontario Grey lockdown restrictions
Ontario has been put into Grey zone restrictions as of this weekend. To conform to the new restrictions, help keep everyone safe and facilitate social distancing, Crop A While has set the following limits on people inside the store at a time:
Thanks for your cooperation as we do our part to keep customers and staff safe.
Carole & Tom
---
March 30, 2021 - Easter Wishes from Crop a While


---
March 17, 2021 - Irish wishes for you on St. Patrick's Day
---
March 10, 2021 - New Crop A While Facebook page

C
rop A While's original Facebook page 'CropAWhilescrapbooking' has been locked up in a Facebook loop. You can see it but nothing new can be posted. When we log in we get a site issues message and are told to try again in a few minutes. Weeks later and it is still locked.
So we have started a new page -
cropawhileottawa
- please share the new page info with your crafty friends so our followers can find us again.
Thanks
---
February 27, 2021 - Slimline Cards Sizes

As more and more Slimline stamps, dies and stencils arrive at Crop A While, card makers are asking us what the dimensions are. Here are the basic sizes (Thanks to #JenniferMaguire):

SLIMLINE CARD SIZES:
You really can do anything you want! But here are some popular sizes:

Traditional Slimline –

3 5/8″ x

8 5/8″ – To make,

cut to 8 5/8″ x 7 1/4″… score at 3 5/8″

Popular Slimline – 3 1/2″ x 8 1/2″ – To make, cut to 8 1/2″ x 7″… score at 3 1/2″

Big Slimline – 4″ x 9″ – To make, cut to 8″ x 9″… score at 4″

Mini Slimline – 3 1/2″ x 6″ – To make cut to 7″ x 6″… score at 3 1/2″

SLIMLINE ENVELOPES:
Big Slimline Envelopes (size 10 – letter size) – 4 1/8″ x 9 1/2″

Traditional & Popular Slimline Envelopes (size 9) – 3 7/8″ x 8 7/8″

Mini Slimline Envelopes – 3 5/8″ x 6 1/2″

Hope this helps you create your own Slimline cards.
---
February 24, 2021 - Crop A While will be on CTV
Crop A While has been invited to do a 1 minute live interview on CTV's 'Curbside Pickup' new segment. It will air at either 5:45 or 6:20 Thursday, Feb 25, 2021. Time to be confirmed.
Hope you have a chance to watch.

---
February 19, 2021 - In-person shopping now open

It was great to have people back in the store and the Oasis cropping studio yesterday. We look forward to serving more of you in the coming days.

Stay safe - see you soon
---
February 16, 2021 - COVID-19 Update
In-person shopping returning to Crop A While
Crop A While will reopen for in-store shopping as of 10:00 am Thursday, February 18, 2021. The Online Store and Curbside pickup will continue to be available.

In accordance with City of Ottawa By-laws, masks and social distancing will be mandatory in the store area and the Oasis cropping studio. A maximum of 5
shoppers will be allowed in the store area at a time. As well, a maximum of 6 croppers will be allowed in the

Oasis at a time.
A cropper will be permitted in the retail area only when there are less than 5 shoppers.
In compliance with Ottawa Public Health, Crop A While requires retail customers to self-screen before entering the store. Please follow these guidelines: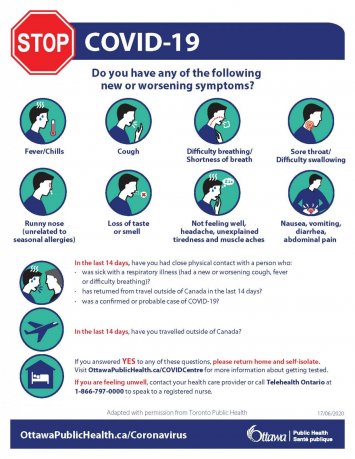 New Expanded Hours:
Crop A While will also be expanding its opening hours beginning on Thursday, February 18th:
Tuesday through Saturday - 10:00 am to 5:00 pm
Sunday - noon to 4:00 pm

We are very much looking forward to serving you in-person once again.
See you soon.
---
January 11, 2021 - OMG What a Day

😍😍😍


We spent Day 1 of our trade show week with AlteNew, Spellbinders and Waffle Flower. Lots of new stamps, dies, stencils and more. Our heads are bursting with all the amazing ideas they shared - colouring with stencils, elegant new slimline designs, layering ...
We will finish our make and takes and have access to event resources tomorrow ... Stay tuned
---
January 11 to 15, 2021 - Trade Show Season Begins

January is usually when the craft industry gets together for the huge Creativation trade show. Hundreds of craft manufacturers/distributors and thousands of store buyers gather (last time 2019 in Phoenix) to explore new products for the coming months. It was a fun and exciting time as we were able to learn about new products and network with suppliers and other store owners. We always came back with lots of goodies and ideas to share.

The COVID pandemic has made it impossible to hold an in-person trade show. But, as the saying goes, "the show must go on". Our distributors and suppliers have joined together to host smaller virtual trade shows. Tom and Carole will be participating in the first ones from Monday, January 11th through to Friday, January 15th. Since most of the classes and products demonstrations will be live, we will only be doing curbside pickup on Tuesday (Jan 12) when we have no live sessions.

Our kits for the events have been arriving since before Christmas and we can hardly wait to share the products and projects with you. Stay tuned to our Facebook page and our Blog for updates.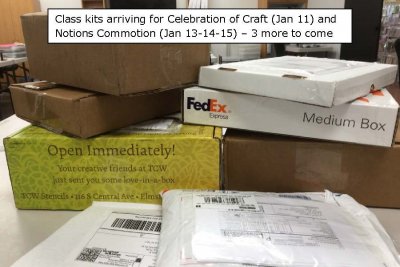 ---
JANUARY 1, 2021 - Happy New Year

As we say goodbye to 2020, we want to thank all our clients, suppliers, friends and family who have supported and encouraged us during COVID-19 restrictions.
We very much appreciated your business and look forward to continuing to serve you in 2021.

Warmest wishes for a safe and happy 2021
Carole & Tom